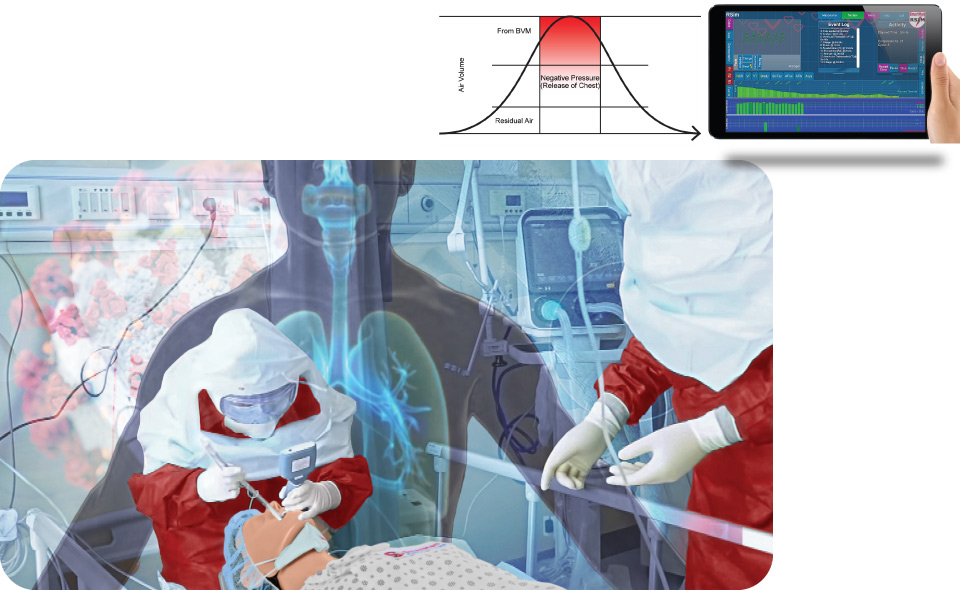 ARDS for Covid-19
* New Higher Quality Simulator To Fight COVID-19
* New Improved Airway Management
* Flexibility to Respond to COVID-19
* From Airway Basics to Advanced Team Work in PPE
Better Airway Skills
* Real Air Flow for Bag-Mask Valve
* Positive-Negative Pressure For Correct Air Movement
* Real Physical Interaction as well as Digital Display
* Life-Like Interaction for Asynchronous Performance
RSIM ARDS (Acute Respiratory Distress Syndrome)
SUMMARY Description of ARDS
Upskill Your Team and Increase Hospital Flexibility to Respond
A new simulator with new capabilities for this new virus. It is specifically designed to improve training where a patient with COVID-19 has difficulty breathing or is unable to breathe on their own. It allows for quick upskilling of healthcare specialists who may be called upon to provide support in areas they would have rarely be asked to support.
This simulator gives these healthcare professionals the confidence to be able to step into this new situation. It is quick to start and easy to get onto practicing skills. This is a practical hands-on system to develop real skills to perform much needed skills. "In severe cases, patients can progress rapidly and develop to the acute respiratory distress syndrome, septic shock, metabolic acidosis and coagulopathy."
When the patient needs to be maintained while the ventilator is set up and working correctly, as a medical professional, you need to know what to do and how to work with others so that it works seamlessly for the benefit of the patient.
More details on the Introductory Offer of a Free TeleDistance Learning Course here.
Basic to Advanced Airway SKILLS. Use this as a refresher of fundamental skills. With its new sensitivity and enhanced feel, it provides a great refresher. For many medical professionals their normal jobs never require performance of these airway skills. Now suddenly they are needed to help in ICU and other ares of COVID-91 response. Also the added difficulty of working in bulky personal protective equipment (PPE) and in some situations working with people they have never met before, our accurate science-based refresher is excellent preparation.
Improved TEAMWORK in a Difficult Situation. Designed to help professionals work in new situations with different professionals in new environments.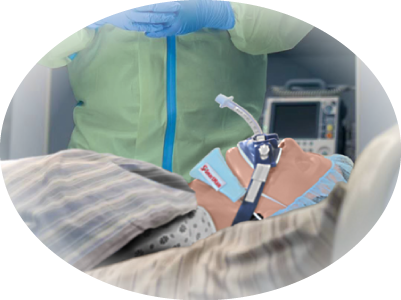 1. On the front line, many are high level specialist physicians where these skills would never be required
2. This situation is difficult; high stress, all covered up, often in large areas
4. Often working with others who they have never met before
5. Other professionals may have learned different protocols (perform skills is slightly different ways)
6. They have never had to perform these skills in such cumbersome gear
7. They have never had to perform these skills with such precaution to not get contaminated
Like no other product, RSIM ARDS provides direct training in strategies on how to work together as a team in this new situation. This newly designed product provides practice in managing team dynamics, improving communication and leadership skills through PPE, use of cues and confirmation techniques and many other unique procedures which NO OTHER SYTEM provides. SmartMan distilled these techniques from suggestions from comments from front line staff telling us what would help them.
>>> See Brochure ........ >>>Contact SmartMan
Easy To Use. This system can be used in the Simulation Center or In-Hospital. There is no huge learning curve to be able to set it up and get the training moving. The average setup time from the box is about 15 minutes. Once it is setup professionals can simply drop in an practice any skill they choose. Simple, single click buttons, to select activities.
SmartMan Tele-Distance Learning. To provide further support to our professionals, SmartMan offers its 'Tele-Distance Learning' to make sure your center gets the most out of this product.
IV Skills Included. The right arm is IV enabled. It has three Veins, two have "Y" Branches, and it has one Artery. This can be set up so that the veins change color. It adds the ability to require Radial Pulse assessment to the carotid pulse check which is a part of the main manikin feature set. The Skin, vein and arteries are composed of self-healing material to prolong usage. Consumable parts are available.
Refresher of Skills Included. This product Includes Basic (BLS) and Advanced (ALS) CPR skills refresher training with accurate real time feedback. It will quickly hone your skills. The feedback is easy to understand and also you to adjust your performance on the fly.
NO EXTRA FEES: Free updates, Plug and play, Auto Calibration to maintain highest level of accuracy, Put the software onto as many PC's as you wish, No user fees, Use an external screen, Train an unlimited number of people.
Note: This product requires a PC Computer which is not included.
Included In Package: Full Body Manikin, IV Arm with 3 Veins, 2 "Y" Branches, and Artery, Carotid and Radial Pulses, High Sensitivity Air Movement for Assisted Airway and Intubating, State of the Art Air Movement with change in Pressure in Thorax for Realistic CPR on Intubated Patient, Full Real Time Feedback with Rate of Air Flow, Accurate Volume of Air Delivered, Timings, Volumes as Changed by Changing Pressures in the Thorax, Easy to understand Graphic Displays, Review of Information and Data Analysis, Wheeled Duffle with Jump Holster for Portability, USB Cable, Face Mask, Throat Cleaning Kit, In-Hospital gown and booties as well as Pre-Hospital track suit,Free Updates
Optional Extras for RSIM ARDS: Extended Warranty.
See Brochure ........ >>>Contact SmartMan
The SmartMan RSIM Feedback System
Air Flow Feedback
See air moving into the lungs as you give air. Air flow reported to .01 of a second. Develop high level control when delivering air by hand.
Thoracic Pressures
Life-Like air pressures mean volumes, rate and interaction provide the most realistic practice possible.
Interaction
Objective feedback on how the person on the chest is changing the condition for the person ventilating.