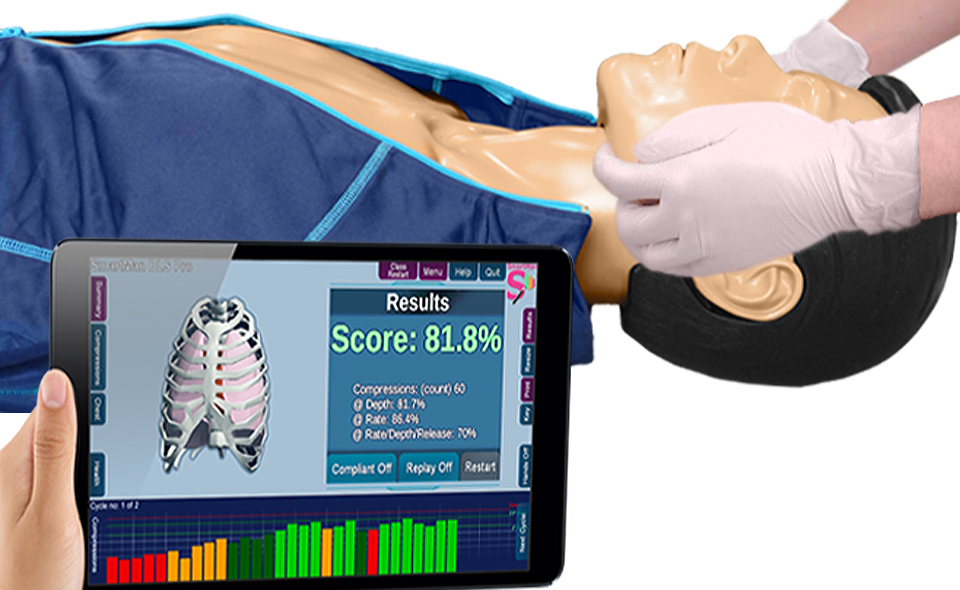 Real Time Feedback
* Adjust as You Perform.
* Hone Your Skill & Be The Best You Can Be
* Highest BLS Accuracy In the Industry
Hardware
* Suitable for Mouth-to-Mouth Training
* Jaw Thrust Feature
* See Air Move In and Out of Lungs
* Accurate Ventilation Feedback
* External Adjustment for Different Size Patients
See BLS Pro brochure for a more detailed description of features.
Contact us for more details - "Info@Smartman.biz"
BLS CPR PRO

This product provides for Advanced Training features in addition to the features of the basic product. For example, it adds the ability to turn on a Metronome and to turn the visual color Feedback On or OFF with a single click. The trainer can pause during the training to correct or make a point, then click continue. The Restart button makes it easy for students to work the system themselves and to have all students in the class have hands-on time. The trainer can add a comment to a particular file at any time.

The BLS PRO version also has a special Trainer Tools section. This allows the trainer to convert a name list directly into student logins and you can put them into classes. The trainer has full access to all student records when not connected to the manikin. There is a feature to quickly make a class list with names, results and dates.

See the BLS Pro Brochure for a more detailed description of features.
BLS Systems
Accuracy: Real Depth Travelled; Real Volume Flowing into the Lungs; Automatic re-calibration assures that this manikin is Accurate for Depth, Rate & Recoil with Full Data. It self-adjusts to always be correct, even after long usage. Provides feedback for too deep and hitting thee bottom as well.
Ventilations provides the only manikin system with real time display of air as it moves in and out of the lungs. Includes accurate feedback on Volume, Rate of Flow of the Air and the time between Rescue Breaths. It also displays Tidal Flow as You Perform.
Natural Chest Resistance
Corrects the issue with many manikins by providing realistic chest resistance, even when practicing ventilations. This means that you feel the resistance on the BVM as you deliver air plus the resistance within the lungs increases as you provide greater volume. It also shows incorrect release of the BVM to allow air to escape from the lungs. You learn correct technique.
It has an easy to clean secondary air system so that it is ideal for practicing Mouth-to-Mouth. The chest resistance on ventilating provides a much more realistic practice for mouth to mouth than with other manikins.
The SmartMan Feedback System
Feedback
The research is clear that in order to attain a high quality of CPR performance, feedback is necessary. SmartMan is easy to understand and is able to demonstrate that people can achieve very high performance levels.
Real Time
As you perform on the manikin, SmartMan will produce a visual response. With 3 basic colors it is easy to respond and hone your performance so that it is optimal for the patient.
Target Score
SmartMan provides objective feedback. Its accurate data is a great way to move to evidence based performance criteria. An objective accurate metric is important for attaining quality CPR.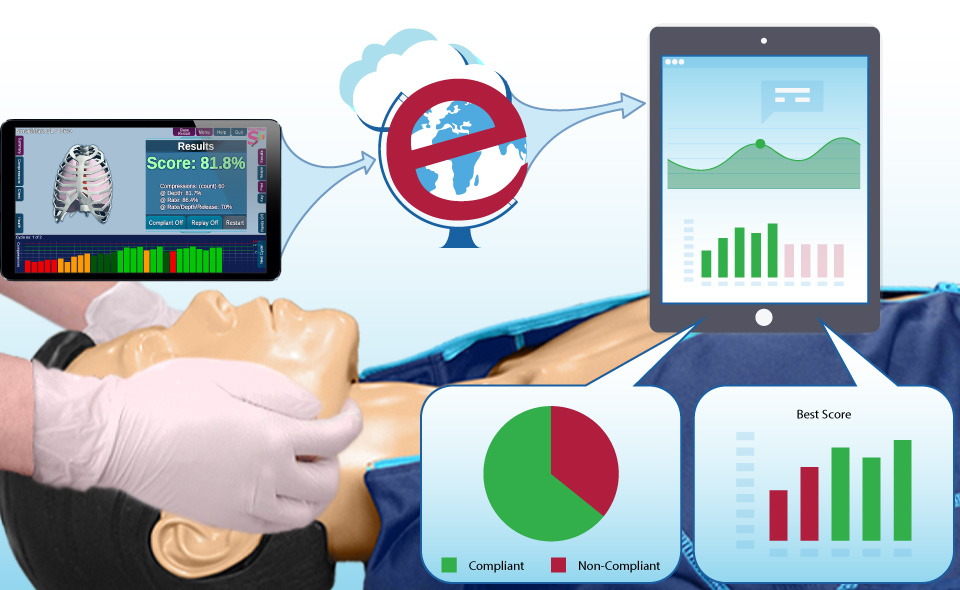 Focus On Your BLS Data
* Objective Verifiable Benchmarks
* Establish Realistic Thresholds of Performance
* Chart Retention Levels
* Identify Areas Needing Improvement
Decision Making
* Graph Numbers and Performance Levels
* Show Maintenance of Standards
* Graph Trends Over Time
* Objective Analysis to Feed into ROI
See BLS Pro+e Brochure for a more detailed description of features.
Contact us for more details - "Info@Smartman.biz"
BLS CPR PRO+e

This product adds the eSERT Data Service to your BLS systems. ESERT is the SmartMan Data System that does all of the hard work related to Data for you, so you can focus on the meaning. The system collects and amalgamates the results data for the activities your students have produced. It cleans and verifies the data. SmartMan experts then create the Graphs and Tables for you to examine, export or include within your reports. You simply login and look for the meaning in your training Data.

It includes eSERT Starter which provides you with the full functionality of our advanced eSERT Max system. See below for further details and check out the brochure for more information.

eSERT brings the POWER of SmartMan's high performance ACCURACY into focus. Quickly print the graphs as pdf's or export them to include in larger reports. It is a system that has truly scientific standards so it can inform your decision making.
The SmartMan eSERT System
Easy To View Data
SmartMan eSERT does the work of collecting, cleaning, collating and verifying your training data. SmartMan also creates the graphs so that you can concentrate on looking at the meaning in your data.
Graphs & Tables
Graphs which show your data are already created with your agency names to make understanding immediate. Both Tables and Graphs respond as soon as you click on them.
Drill Down & Export
Buttons and sliders add to your ability to quickly focus on the part of the data you want to see. Export part of the data or all of it. Click to create a pdf. Easy to integrate into reports.