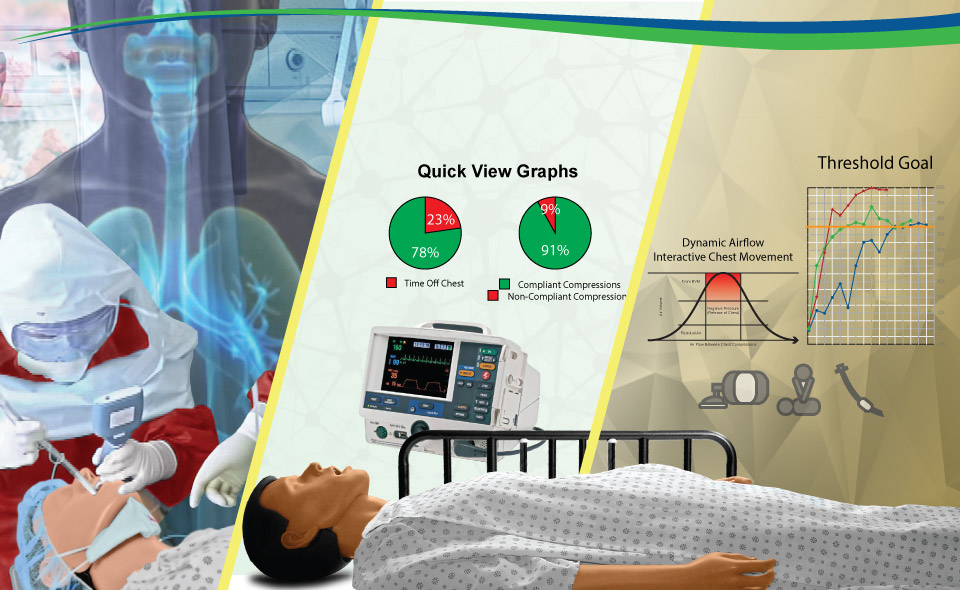 TASKS & TEAM Training
* Highest Fidelity and Highest Accuracy
* Team Optimization with Objective Evaluation Metrics
* Chest Pressures Producing Realistic Air Movement
* eSERT Cloud with Dashboard and Graphs of Data
Objective Accurate Evidence
* Takes Less Time and Improves Quality
* Pinpoints Where Actions Can Be Improved
* Quality of Actions and Timing On-Screen
* Real Run Time on How Actions Influence Patient
RSIM1 is a high fidelity full body manikin designed to provide Best Practice Training. It comes with an IV Arm as well as an IO accessible leg. Both carotid and peripheral checks are possible. It has a special thoracic build so that pressures in the chest responde and provide realistic feedback as the chest moves. The sensors and new activities have been designed with input from front line workers during the recent health crises.
TASKS: Our award winning SmartMan real time feedback is easy to understand and is especially well suited to honing skills and learning skills. It is ideal for monitoring at a distance as students can login and simply perform their skills renewal. Coach, guide, comment during their training or view at a later time. It is well suited to upskilling during COVID-19. This visual color feedback has been directly linked to improved survival and long retention rates for skills performance.
TEAM: This brings the urgency of real Run-Time together with quality of skills and the continual reporting on the condition of the patient to your training. The influence of actions are updated on a per second basis and respond to the timing and how well skills are performed. It points directly to improved coordination and communication in order to achieve best patient outcomes.
OBJECTIVE EVIDENCE BASED DEBRIEFING: RSIM1will change how you Debrief your Training Session. You will still concentrate on communication and tam dynamics, but RSIM1 adds objective evidence to key areas. You have two levels of information depending on the time you have. Quick-View graphs give you a synopsis and are designed so that you know exactly what has been done within 30 seconds. The second level provides more detailed information and you can pinpoint which actions need improved communication. For example it will provide crucial timings and quality around the stage of the code when each shock is delivered. This Perishock information is unique to SmartMan. SmartMan RSIM1 Debriefing gives you objective evidence for where your training is excellent and where it can be improved.
DATA: RSIM1 INCLUDES the SmartMan Cloud application called eSERT. eSERT is a service that collects, cleans, sorts and puts your results data into the Cloud. Our service customizes the display of your data so that it is easy to understand. eSERT pulls out the meaning hidden within your data so that you can see what is there. Your dashboard will have graphs and charts for a quick view, and you can drill down, filter and export of your data as you like. Go here to learn more about our eSERT Service.
Tasks & Team
Upskilling and Team Work.
This full body high fidelity manikin training system provides excellent responnse, real time feedback and skills refreshers. Also it's ananlysis pinpoins where coopertion can be improved. It includes tips and techniques to imprve the efficiency of the team response. It is easy to integrate your own rhythm generator and defibrillator.
Develop Best Practice. Simulations respond as skills are performed. They respond to quality, timing, interaction, and interruptions. The timer is running and Simulations are up to date on the patient's condition. You see how changes in performance effect blood flow to the brain and the health status of the patient. It shows how, when, and what is done has an impact on patients.
Objective Debrief
SmartManAI® analyzes Performance. It gives you the facts for where improvement would have the most impact on the patient. It gives the trainer objective, accurate, At-A-Glance graphs to know exactly where to focus for improvement. It fits seamlessly into existing debriefing. Simple to use with as few as two clicks, use as much or as little of it as you want for a particular session.
This advanced training product allows the trainer to set the initial condition of the patient depending on when the team arrives. The simulations then run in real time and respond to skills performed from time of onset. This simulator focuses the team effort on the patient. It shows how even a single hesitation or less than optimal performance impacts the team and thus the patient.
This provides you with a visual display of how the quality of the skills being performed is producing or not producing blood flow to the brain. It is updated every second and gives you a running condition display. At-A-Glance you see how interruptions and poor quality of skills performed directly influence the brain perfusion.
This advanced simulator allows you to put everything the team members have learned in individual stations, to the practice situation where they all have to function together for the benefit of the patient. It includes examples of using clear concise directions with well-timed performance of skills to develop a successful team. It also has suggestions on roles dependent on the number of responders.
You have simple to understand graphics of the crucial peri-shock phases for the total code. Objective visual displays make it easy to understand the times from monitor/defibrillator analysis to the time the shock is issued; total times for each phase during the training; detail on quality of skills performed up to and after that phase; detail on the hands-off the chest times.
Advanced Life-Like Air Movement
This proprietary system is unique to SmartMan Resuscitation Systems.

The Delta Tidal Flow Interaction System (DTFIS) creates an excellent physical feel of pressure and sounds. The real time digital display of the movement of air in and out of the lungs during performance of CPR includes the influence of air being pushed out of the lungs and being sucked into the lungs when chest compressions are ongoing. It also includes the real change in volumes which influence how and when the BVM is used.