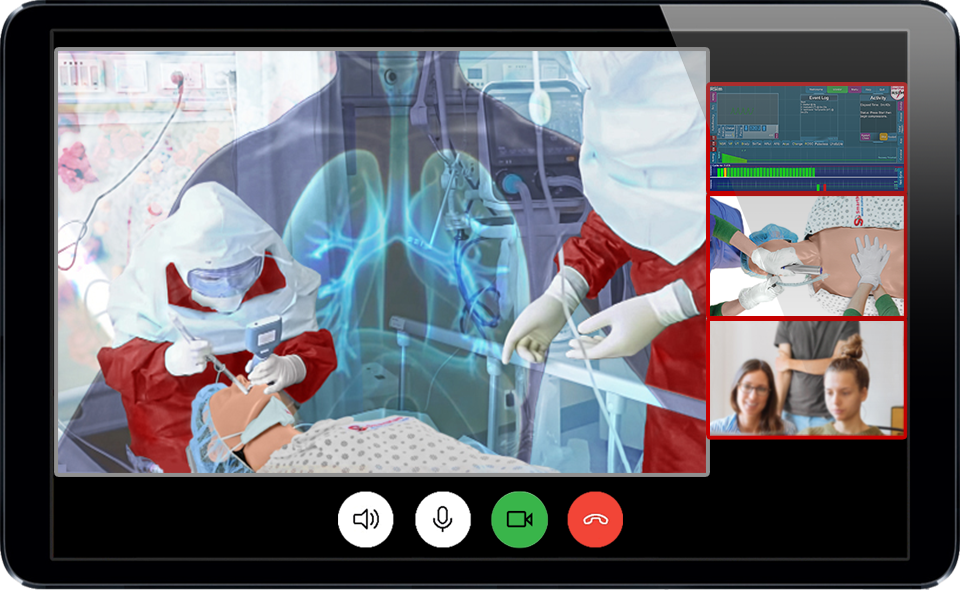 Integrated Learning
* Flexible Delivery During COVID-19
* Practice and Theory with Debriefing
* Targeted Achievement Goals
* Introductory Offer - Included with RSIM ARDS
Interactive Hands-On Practice
* Real Time Feedback for Actions
* Live Guidance and Tips
* Full Debriefing and Discussion
* Review Actions and Report Later
Professional Courses - Professional Delivery. With COVID-19, our technicians have put together a way to bring high quality training on our advanced emergency response training systems to you via our TeleDistance delivery. This is not a person talking about how to do something. These are interactive COURSES; sessions where your students not only learn the how and the why, but also perform skills, and protocols and practice team work with hands-on with high quality real time feedback. Our experts are there to guide you through the procedures; help with interpretations; demonstrate key learning points, and to debrief. Everyone gets hands-on practice; everyone's skills and techniques improve. Our experts can participate as much as or as little as you like.
TeleDistance. This makes use of Microsoft Teams and/or Zoom to bring your people together with our education specialists. This is not a video where you sit and watch. These are structured learning classes with aims, objectives, professionally designed educational methods, and objective assessment of whether we meet the aims of the course. For example, we model behavior, provide explanations and your people will then perform on the manikins with real time feedback. Internet and a device such as a computer, tablet or phone with a webcam are required from student side. See more information on Courses.
Set Up. Our experts will help you put the correct setup in place. This includes which software you should download and install on each of your devices, what is required to participate, and the basics on how to participate during a TeleDistance Learning session. We will discuss what setup is required for you to maximize the value of each session.
Practice Delivery. Before we run the first live class with you, we will conduct a run through session with your main contact person. This is not to teach the course but to make sure you are familiar with the technology and is to help insure that things will run smoothly during the live sessions.
Delivery Language. Our experts use English to deliver courses. We have several experts who are able to communicate in other languages as well. If you require local language support, please advise us before the course or service is agreed.
You Provide. You must have the SmartMan Training System. Depending on which tasks, skills, and team protocols you wish students to learn, they will require the appropriate amount of space around the manikin to be able to move correctly. Each person or group who joins the course as well as the area where students perform on the manikin must have an internet connection. Each device must have the appropriate software downloaded and installed on the device they will use.
Introductory Offer. All orders for RSIM ARDS received and paid for before 1 January 2021, will receive up to 3 hours of TeleDistance Learning. Timing and content are subject to mutual agreement. Specific content can be customized to your needs.
See more detailed information on Courses. Or contact us to work out the details on how to best achieve your goals: email us for more information or contact us.