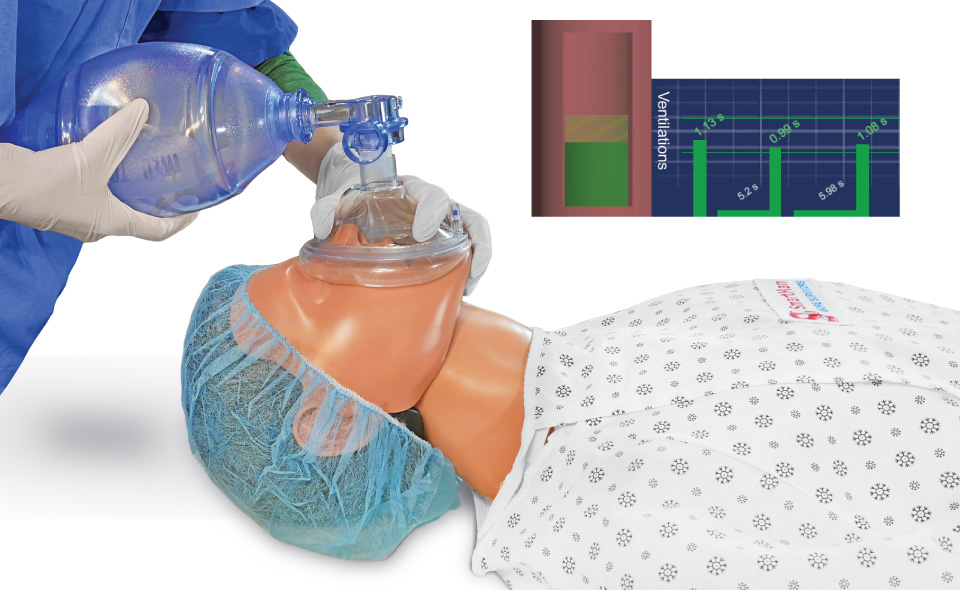 More Than Just a Head
* Available as Torso or Full Body
* Accurate Volume of Air Delivered
* Accurate Rate of Flow
* Natural Resistance From Thorax
Real Time Feedback
* Rate of Airflow to 0.01 seconds
* Visual Display of Air Moving Into Lungs
* Scored Activity with Immediate Review
* Tidal Movement Showing Hold of Bag
Assisted Ventilation
This airway training product provides the feel and the feedback necessary to be able to perform this skill very well. With its greater accuracy and calibrated natural chest resistance it stands above other manikins. You will recognize the difference with this product over previous training sessions.
There are three modes to reinforce learning: natural feel and sound of a good ventilation; visual colored display as you perform; accurate post performance analysis. Choose the mode of learning which is right for you or combine all three. Provided assisted ventilation for a patient is not an easy skill to maintain at a high level of accuracy. You need to refresh you skills often.
Activities to Improve AND Control How You Squeeze the BVM. You can feel and see how you squeeze the BVM changes whether the air goes into the lungs or the stomach. Volumes are accurate. You can either go by the feel and can then verify the flow time into the lungs as it is provided to 0.01 of a second.
This skill is used in many different Scenarios NOT Just COID-19.
Respiratory Distress
Conscious Sedation
Acute Pneumonia
Drug Overdose
Drownings
COVID-19
Extra Features
Metronome - This is an innovation aid to getting the time correct for a) squeezing the BVM, b) for the interval between ventilations.
Tidal View -The natural in our movement of a natural breath is considered to be tidal in nature. SmartMan provides a tidal view of your ventilations.
Failure to Release Bag - While there has been a huge emphasis on getting people to slow down on how they squeeze the BVM, there are a number of people, who once they have learned to slow down their squeeze to one second, then make the mistake of continue to hold the BVM. This prevents the air from being released from the lungs. SmartMan displays this failure to release the BVM properly.
Detail Rate of Flow - You get a full visualization of how the air is flowing related to how you are squeezing the bag. It will also provide you with a detailed analysis to 0.01 seconds of how long squeezing of the bag was moving air into the lungs. This will account for air that does not go in the lungs but instead goes into the stomach.
You can purchase this unit on its own for practicing Assisted Ventilation, or it can be purchased as a part of our other Airway Management Products. Inquire now.